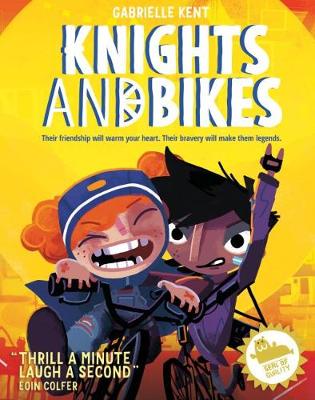 Book review: Knights and Bikes (Gabrielle Kent)
By Gabrielle Kent
Knights Of (August 2018)
A review by Umar Ibrahim
Young Muslim Writers Awards 2017 Winner – Key Stage 1 Poetry and Short Story (Ages 5-7), 2017 Writer of the Year
RATING: 4/5
Heart-warming, hair-raising and utterly hilarious!
This book is a fantastic read about love, friendship, action and adventure. The story is about a quirky, witty, imaginative girl called Demelza who lives in a caravan with her gallant and protective pet goose, Captain Honkers, on the Island of Penfurzy.
Demelza and Captain Honkers meet a stranger called Nessa who appears out of nowhere and seems to be able to do all sorts of improbable ninja like things. She appears and disappears suddenly, drives diggers off cliffs, fights ghostly knights, breaks into scrap yards and is frightened of absolutely nothing!
The two courageous girls discover a book of clues left behind amongst Demelza's late mother's things. Armed with a toilet plunger, water pistol, bubblegum, Worcester sauce crisp sandwiches, cola grenades and many other hilarious and very useful items, they embark on a thrilling and heart stopping adventure to try and discover the cursed treasure left behind by the Knights of Penfurzy. Treasure both residents and tourists of Penfurzy have been searching for, for a long time.
The girls face great peril on their quest and survive giant swinging blades, ghostly knights, metallic hands (that have a life of their own!) and the scary and greedy Sir Warleggen – Lord of Penfurzy Castle, mightiest of all Penfurzy Knights, scourge of evil doers and protector of the cursed treasure! This was the most exciting part of the story.
The plot moves at a fast pace with many twists and turns and is a real page turner. You never know what you're going to get next.
By far the favourite character in the story is the ferociously loyal and lovable Captain Honkers who is the perfect pet and friend.
I would have given the book five stars however I expected Nessa's secret background to be more fascinating and interesting and was slightly let down when it wasn't as I had imagined. Also, some of the references in the story were from the 1980's – as I had to look them up, this affected the flow of the story for me.
Overall, Knights and Bikes is a wonderful and comical book that makes you laugh out loud and keeps you on the edge of your seat until the end. A book about the power of friendship, honesty and bravery and leaves you wanting a Captain Honkers of your own!