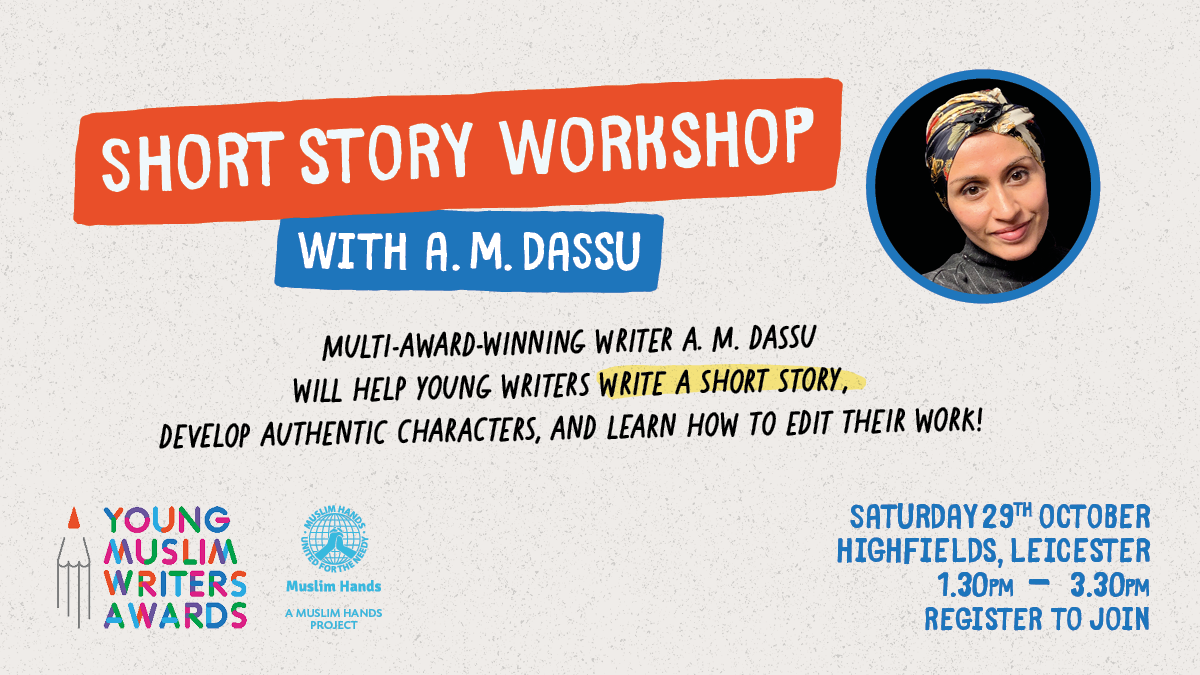 Want to write a short story but not sure how to write realistic characters and how to edit your story?
Join us on Saturday 29th October 2022 as multi-award-winning writer and World Book Day 2023 author A. M. Dassu shows us how to write a short story!
Saturday 29th October
1:30 to 3:30pm
Location: Highfields, Leicester (venue to be shared with registrants)
Ideal for ages 8 to 14
We kindly ask attendees to wear a face mask.
Registration by a parent / guardian is required. Please click here to register.
Multi-award-winning YA and children's author A. M.DASSU will guide us through to help develop our own short story. Learn how to create memorable characters, show their personalities, and how to reflect this in dialogue.
Once you have written a scene, you'll learn how to edit your writing. With A. M. Dassu, you will explore how chapters from her own books were developed and improved, which will provide you with the tools to apply in your own writing.
Bring a notebook and pen and join in the fun!
About A. M. Dassu:
A. M. DASSU is the internationally acclaimed author of Boy, Everywhere, which has been listed for 25 awards, including the Waterstones Children's Book Prize, the Carnegie Medal, is the 2021 winner of The Little Rebels Award for Radical Fiction and is also an American Library Association Notable Book. Her second novel, Fight Back was Book of the Month in The Guardian and also in all independent bookstores across the UK.
She is a director at Inclusive Minds, which is an organisation for people who are passionate about inclusion, diversity, equality and accessibility in children's literature, and one of The National Literacy Trust's Connecting Stories campaign authors, aiming to help inspire a love of reading and writing in children and young people.
A. M. Dassu grew up in the Midlands dreaming of becoming a writer but studied economics instead and worked in marketing and project management before realising her dream. She writes books that challenge stereotypes, humanise the "other" and are full of empathy, hope and heart. Her work has been published by The Huffington Post, Times Educational Supplement, Scoop magazine, DK Books, Scholastic, Lee and Low, Old Barn Books and Harper Collins.
Her next book is a World Book Day novel and will be published in March 2023.