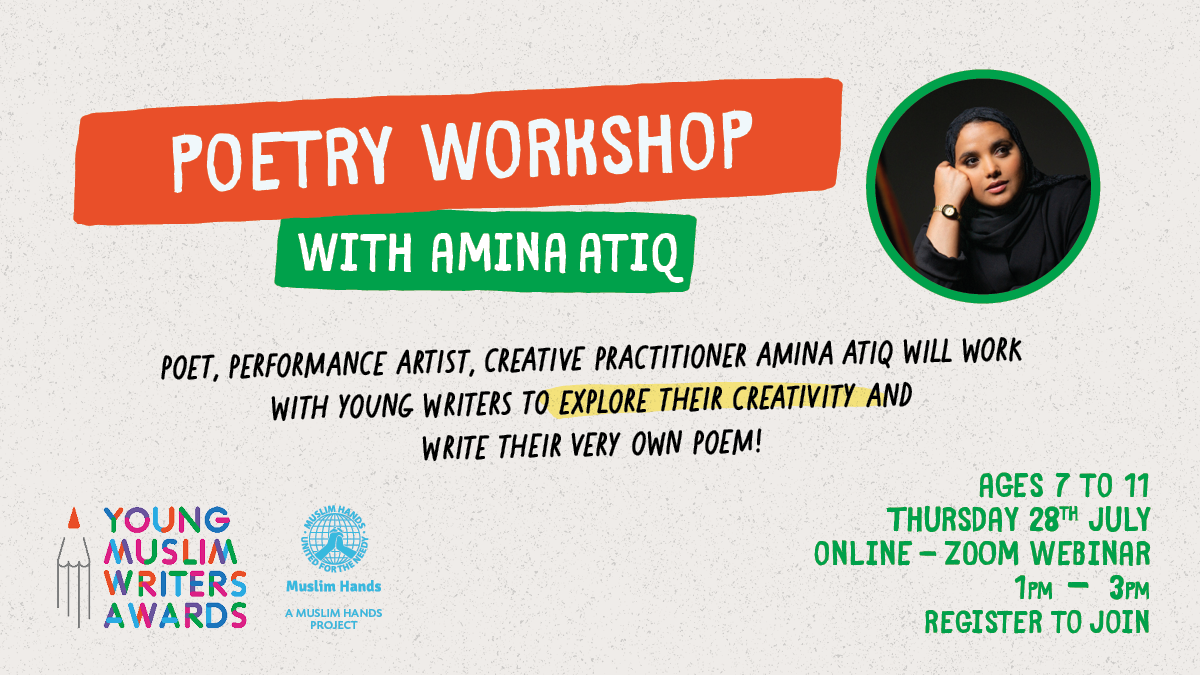 Save Our Words!
We need your help! The bookworms are hungry and they are eating our poems.
Amina Atiq is calling all superheroes to save the world of poetry. Time is running out, can you help?
We're inviting young poets aged 7 to 11 to explore their identity through the power of words and imagination. Amina will guide you step by step to complete your superpower poem.
What you will need for this workshop:
• Love for words
• Something to write/type with
• Adult may want to support you
Once you have completed your poem, you are invited to share it with us in the 2022 Young Muslim Writers Awards competition which closes on 7th August. You can also submit a short story, and over 11's may also submit a screenplay, play script, and article.
About the poet:
Amina Atiq is a Yemeni poet, performance artist, creative practitioner, and award-winning community activist. She is a BBC Words First Finalist 2019 and an alumni Young Associate of Curious Minds. Amina is an Artist Fellow at DaDaFest, a Weston Jerwood Creative Arts Fellow, and a Social Cohesion Fellow of Humboldt Foundation Residency 2022.
Currently Amina is lead artist at 20 Stories High's public-poetry project POET'S GIFT, working closely with Muslim young people in Merseyside, as well as a librettist in collaboration with composer Alya Al-Sultani for the opera 'Two Sisters'. Amina has been featured by Poetry Please, BBC 4 Radio, Cordite Poetry Review, Queensland Poetry Festival : Use Words First (Wrecking Ball Press), John Moores Painting Prize 2020 (The Double Negative), The Independent, Just Beyond Reach (Sutton Manor, Metal Southend), Not Quite Right for Us (Flipped Eye Publisher, Speaking Volumes), amongst many others.
This workshop is organised by Young Muslim Writers Awards, a project delivered by UK charity Muslim Hands.