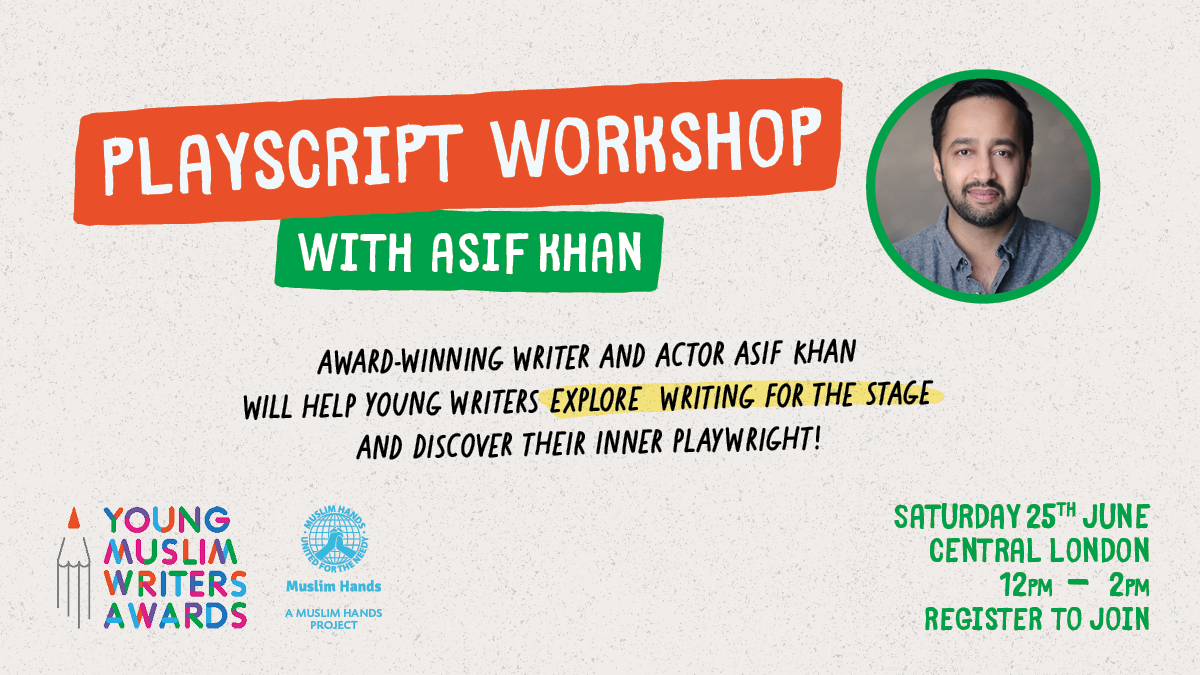 Join us on Saturday 25th June 2022 as we explore the craft of writing a playscript!
Have you ever wanted to write a play to be performed on stage? We've organised a playscript writing workshop to help you get started!
Led by award-winning writer and actor Asif Khan, in the workshop you will look at the actor/writer relationship. You will delve into some specific techniques used by actors, including Stanislavski, to help you create scenes, dialogue, subtext and character. You will then apply some of these techniques in the session to write your own individual scenes. To finish, there will be an opportunity for a Q&A with Asif.
Kensington Central Library
Saturday 25th June 2022
12pm to 2pm
For writers aged 11 to 16 only
Bring a notebook and pen and join in the fun!
About Asif Khan:
Asif Khan is an award winning writer and actor, born and raised in Bradford. He trained at The Royal Academy Of Dramatic Art (RADA). His debut play Combustion toured the UK in 2017 and was nominated for OffWestEnd's Best New Play award and Best Writer in the Stage Debut Awards. It also won Best Production at The Eastern Eye Arts, Culture and Theatre Awards (2018) and at The Asian Media Awards (2017). In 2018, Asif Won the Channel 4 Playwright's Scheme Award with Rifco and Watford Palace Theatre, where he was commissioned to develop a new play. In 2019, his play Imaam Imraan was produced by the National Youth Theatre, playing at the Bradford Literary Festival.
He is a Tamasha Theatre Alumnus with whom he has developed two plays for teenagers. He was part of the BBC Comedy Room in 2017 and was named on the BBC New Talent Hotlist in 2017. In 2015, Asif set up AIK Productions, with the aim to produce new, high quality theatre, specialising in stories and voices from minority backgrounds. With Turtle Key Arts, Asif (AIK) co-produced and performed in Love, Bombs And Apples, which played at the Arcola Theatre, Edinburgh Festival, Potrero Stage (San Francisco), The Kennedy Center (Washington DC) as well as a UK Tour. It Won Outstanding Production at Theatre Bay Area Awards 2018. Following this Asif wrote and co-produced Combustion with Tara Arts and his latest play Jabala And The Jinn toured the UK in 2022.
His theatre work as an actor also includes: Hamlet & The Cherry Orchard (Theatre Royal Windsor) Tartuffe (RSC), A Kind Of People (Royal Court), Twelfth Night (National), Multitudes, Handbagged, When The Crows Visit (Kiln), Mixed Up North (Out Of Joint), Snookered (Tamasha/Bush).